You probably already know that Lello Bookstore is one of the most iconic buildings in Porto. It's all over the news, even in world-renowned media. The British journal The Guardian, CNN. and Lonely Planet Publisher rated this bookshop as one of the most beautiful in the world!
Join At Will Tours on a journey through the history of the Lello Bookshop!
Lello Bookstore combines neogothic architecture with art nouveau ornaments. Probably the ex libris of this bookshop is its fabulous carmine staircase. But the detailing of the wooden balusters and the incredible stained-glass skylight are simply amazing!
If you look closely, this building reminds a medieval cathedral – a cathedral of knowledge! Where the book is the object of worship. Nowadays it is one of the most visited places in Porto, and in Portugal. Here you can find several different book sections in various languages.
This bookstore supposedly inspired the author of the famous Harry Potter books – JK Rowling lived in the city between 1991 and 1993. What we know is that she spent a lot of time in the bookstore! Which, far from the tourist attraction it is nowadays, would be only a normal (and beautiful) bookstore!
You can find inspiration from the city and the bookstore in details like some places in the adventures of Harry Potter, props, character names.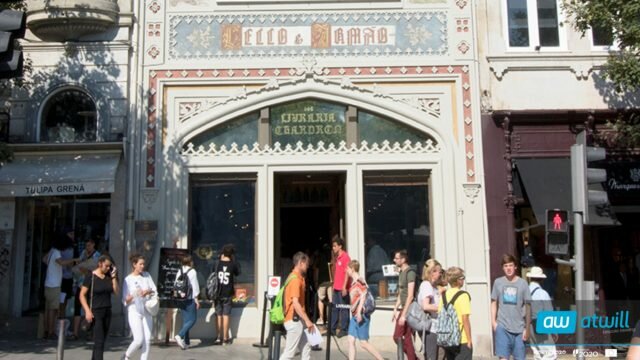 Book At Will Tours' "Porto Downtown Tour" and you won't need to wait in line to visit the fantastic Lello Bookstore!
At Will tours's Porto Downtown tour includes a SKIP THE LINE ticket to visit Lello Bookshop. This is a great advantage considering the massive queues that are formed almost every day. Our local guide will show you not only this gem, but all the most important monuments of the city in a three hour tour.
Do not miss this fantastic opportunity to explore Porto's must-see places!