AtWill is a tourism company that offers distinctive quality tours in Porto and Northern Portugal. We provide original and bespoke tourism experiences, made to measure for each customer. Our goal is to share "our" Porto, exploring the city in a different way: we will show you the local lifestyle and present the most genuine, off the beaten track locations in this beautiful city.
Do you like to travel and explore unknown cities in the company of friendly locals? Do you want to stay out the touristic traps and routes? Are you eager to visit Porto and truly enjoy this experience?
Then AtWill is for you!
Our tours are designed for the most curious and selective travelers! According to your interests, the routes can focus on Porto's history, architecture, art scene or gastronomical culture. We offer half-day thematic tours or full-day programs, which can include meals in typical restaurants, boat trips, wine tastings or Fado concerts.
All of our tours are private, which means that you will have the best opportunity to learn and ask all your questions, and even change the itinerary to best fit your needs. Our aim is to exceed your expectations and provide exclusive and tailored tours, giving you the feeling of deeply discovering Porto.
AtWill's team of young experts, with degrees in History and Arts, is eager to introduce you to Porto. Besides loving the city our guides are passionate travelers and understand the feeling of visiting a new place and eventually missing something – that special side of a city that the occasional tourist often miss. We don't want you to leave Porto with similar thoughts! We want to share the best that our city has to offer and take you to the most original places.
Meet our team: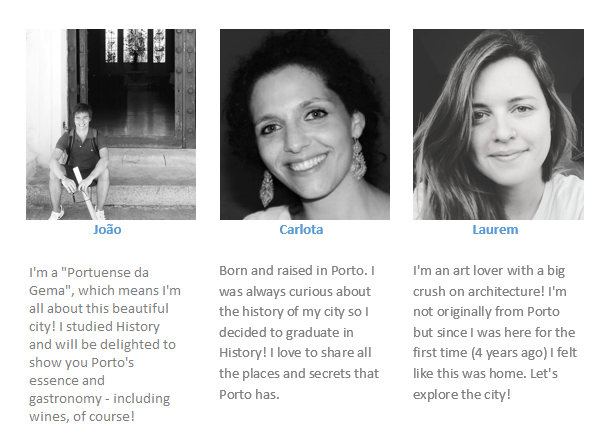 Join us for an unforgettable memory! Start your trip as a tourist and leave as a local. We guarantee you will have an original, informative and fun experience in Porto!