If you're visiting the city or planning your trip, you probably heard about something called Francesinha, right?
Known as one of the most typical dishes of Porto, these big and delicious sandwiches are found everywhere in the city and are the topic of very passionate discussions – everybody has its own favorite place with its unique recipe!
But if you already had a Francesinha or want to check other meals with local flavors, we made a list of our top 5 favorite places to have great typical sandwiches in the city:
1. Casa Guedes
Without questions, this is THE BEST sandwich in the city. Delicious roasted pork combined with a buttery Portuguese cheese (called Queijo da Serra cheese) in a crunchy bun. It gets perfect when you have it together with a Espadal, a typical kind of rosé wine.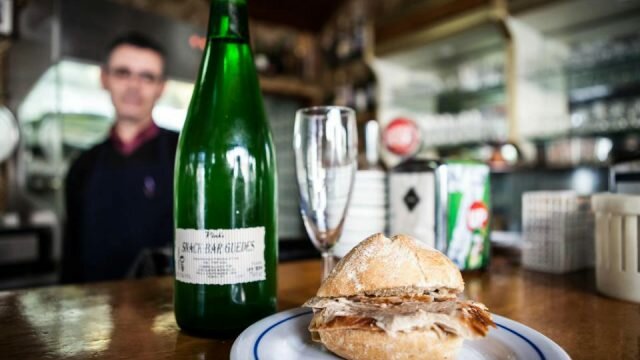 Address: Praça dos Poveiros, n.º130
---
2. Conga
This place, opened in 1976, is famous for their Bifanas, a sandwich made only with bread and pork meat thinly sliced cooked in a spicy sauce. Sounds simple but it's quite delicious! Order together with a portion of French fries – they also came with sauce on top – and a beer (locally called "Fino").
Address: R. do Bonjardim 318
---
3. Venham mais 5
The most famous place in the city to have a "Prego", a sandwich that is basically a delicious steak served in a simple bread. In this place, the Prego also have Serra da Estrela cheese, which makes it even greater. For dessert, try their famous chocolate cake.
Address: Rua Santo Ildefonso, 219
---
4. Cachorrinhos da Batalha – Cervejaria Gazela
Best hotdog in town made with crispy bread, kind of spicy sausage and melted cheese, all cut in bite-size pieces! The place is very small and usually full of people but the waiting time to get a spot is usually short. Complete the meal with french fries and a cold beer.
Address: Praça da Batalha 72
---
5. A Badalhoca
Famous for its ham sandwich, A Badalhoca actually has a lot of other options. If you don't want to miss, try the one with ham and egg – it's delicious. If you're willing to try other Portuguese dishes, here you can try the Papas de sarrabulho – a kind of soup made with pork blood and lots of meat. To drink, try their fresh Espadal – according to the owners, it's a wine that doesn't give you a hangover!
Adress: Rua do Doutor Alberto de Macedo 437 and Rua da Picaria 26 (city center)
---
Which one is your favorite? Don't forget that AtWill has a Food Tour and we will be glad to have you with us on this delicious journey! And stay tuned because next week we will show you the best gourmet sandwiches in town. Forget about the scale and enjoy your vacation ;)
---
Photos: maisquecomida.wordpress.com|afar.com|TripAdvisor|Food on Foot|tascas.pt