Discover Sé, the oldest area in Porto
On this series of posts, we'll tell you a little bit about each of the neighborhoods (in Portuguese, «freguesias») in the downtown area of Porto. Besides some historical facts, we will show you places you can visit and where to have a great meal in all these areas! Today, we show you the neighborhood of Sé!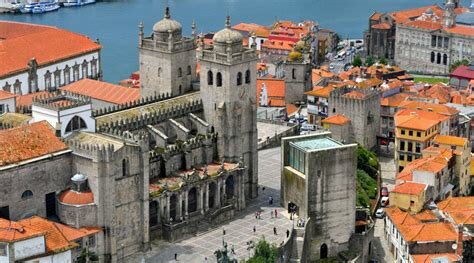 Sé is another word for «cathedral» in Portuguese. This means each Portuguese city has its own Sé: Sé de Braga, Sé de Aveiro, Sé de Lisboa and so on. In Porto, the cathedral was the first thing to be built in the city and it dates back to the 12th century! The city developed around it and you can still find lots of medieval streets and alleys around the city's cathedral.
According to the national census, Sé neighborhood has 81 streets. In 2011, approximately 3400 people were living there, which is a very low number compared to past decades: in the 1940's, nearly 17.000 people lived in this area! The residents of Sé are very proud of their neighborhood and have been living there for generations.
Places of interest at Sé neighborhood
Sé cloisters and Bishop's Palace: Of course, once at Sé neighborhood you need to visit the cathedral itself! Don't miss the Gothic cloisters, with its beautiful tiles and gold chapels. Also, go check the Bishop's palace, located right near the cathedral.
Casa da Mariquinhas: One of the most traditional Fado houses in Porto! They provide great live concerts since 1968. You can go there from Tuesdays to Saturdays for a great dinner and Fado performance (only under reservation).
Arco das Verdades is a place for wine lovers! Over there you can try wines from different regions of Portugal combined with breathtaking views of the Douro river. They are open from Tuesday to Sundays, from 11 am to 7 pm.
Casa-Museu Guerra Junqueiro: Located very near the cathedral is the lovely house-museum Guerra Junqueiro, where you can see a great collection of decorative arts. If the weather is good, have a sit outside for a coffee and relax right in the heart of Porto!
And remember: If you want to discover Porto and explore its neighborhoods in the company of a local guide, book your private tour with AtWill! We will be happy to share «our» Porto with you!