From the fresh gardens of the Cordoaria, topped by the crown jewel of Porto that is the Clérigos tower, to the bustling central squares of the Aliados avenue, to the quiet and calm neighbourhoods of Vitória and Virtudes, AtWill's Downtown tour will take you through the winding streets of Portugal's capital of the North and show you the cosmopolitan and the traditional side of Porto all the same.
In this Downtown tour you will have the perfect introduction to Porto!
Among the highlights of the tour are no doubt the Vitória Street and even more so the adjacent Virtudes Promenade. The Vitória Street will take you from the Caldeireiros street to Virtudes, all the while providing you with a peak into the typical Portuguese urban life; typical grocery stores with many years to them, locals enthusiastically discussing last night's football match, and flags and banners on windows to match.
Once in Virtudes you will be met with a fresh air, virtue of the heavy tree density in the promenade. A small garden overlooks a mesmerizing view of the Douro river, with sight to the Customs House (Alfândega), the old fishing community of Miragaia west of Porto, the terraced Virtudes Gardens below, of the striking white Arrábida bridge, and the top of the dome of the Crystal Palace.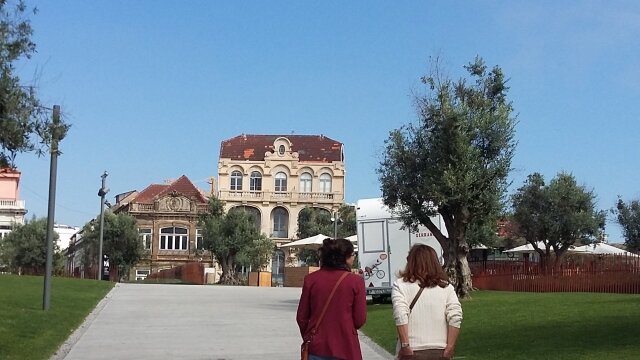 Virtudes, however, has beauty of its own beside the wondrous view: the typical 19th century burgher houses lining the promenade contribute to the ambience of the area. In Virtudes is also where the old Englishmen's Club is, a large pretty building with a uniquely ornate skylight. A mural by Porto street artist Hazul, also decorates the middle of the block. Towering over the Virtudes to the North is a mighty courthouse, the Palace of Justice, of monumental size and authoritative lines to its design.
All these elements bring to the combination of Vitória Street and Virtudes Promenade a unique flair, through the authentic living breathing Porto to the relaxing view of the Douro river. With many layers of time, from the 14th to the 20th century carved in the urban landscape of Porto, this is but a little stretch of what AtWill's Downtown Porto tour offers.