Standing atop all of Porto, dominating the landscape at the first hill of the city sits the first ever seat of power of the City of Porto, as it is called today. Ancient, ancestral and perennial hill holds upon it the cradle of the city and its conqueror: the Sé, Porto´s Cathedral, and Vímara Peres, conqueror of Portus Cale, first count of Portucale.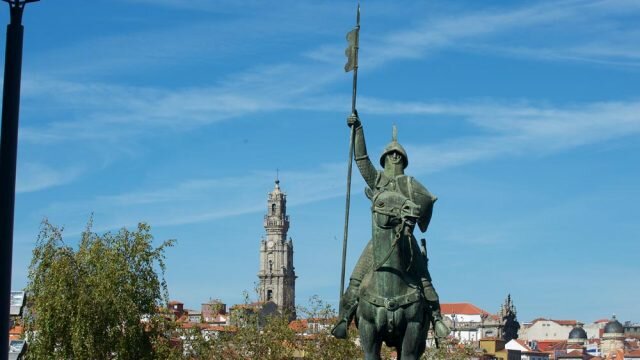 Vímara Peres was born an Asturian nobleman circa 820; he was legendary warrior who conquered the lands that today are part of Portugal, north of the Douro from the Moors, conquest which was completed in 868. Among the lands he conquered was a little town named Portus Cale. From Portus Cale came two important names: Portucale, the name given to the county formed for Vímara Peres to rule, and Porto a name given to this capital of the North.
The city was given to a bishop to rule, the first of them being Bishop Hugo. In the latter half of the 12th century, the Romanesque fortified church began being built. With two mighty mighty square towers, supported by sturdy buttresses. The Western façade carries the 14th-15th century gothic decorations, built around the time John I of Portugal married Philippa of Lancaster, marriage which sealed the alliance of the 1386 treaty of Windsor between Portugal and England. Inside there also is an impressive Gothic cloister, a rare sight to see in Portugal, but a most impressive one once inside. Niccolò Nasoni, the Tuscan architect who moved to Porto made also many additions to the cathedral. The baroque porch with the typical Portuguese tiles adorn the northern façade of the Cathedral which can be seen from the São Bento train station, and on the approach from the central areas of modern Porto. The gate of the western façade was also object of modifications, and the cupolas on the towers were added as well. Nasoni was an extremely popular and prolific architect in the city of Porto, and as such, the interior apse was rebuilt in baroque style, directed by Nasoni. The most impressive silver altar was authored by Portuguese artists Santos Pacheco and Miguel Francisco da Silva. It was only in 1737 that one could say that the cathedral was finished. Still, well into 1985 the interior changed somewhat with the addition of a large organ.
The Morro da Penaventosa (Penaventosa Hill), stands tall above all of Porto, as an incredible sight to behold, and as perpetual memory of the ancestral origins of Porto, of intrinsic significance to it, as the first ruler of Porto, and its conqueror towering over the city. Although it isn't the tallest point of the city, it is among, if not, the strongest.
If you want to discover more about Porto´s Cathedral and its surroundings book our History Master Class tour! You will became an expert!